Major award winners announced
27-08-2017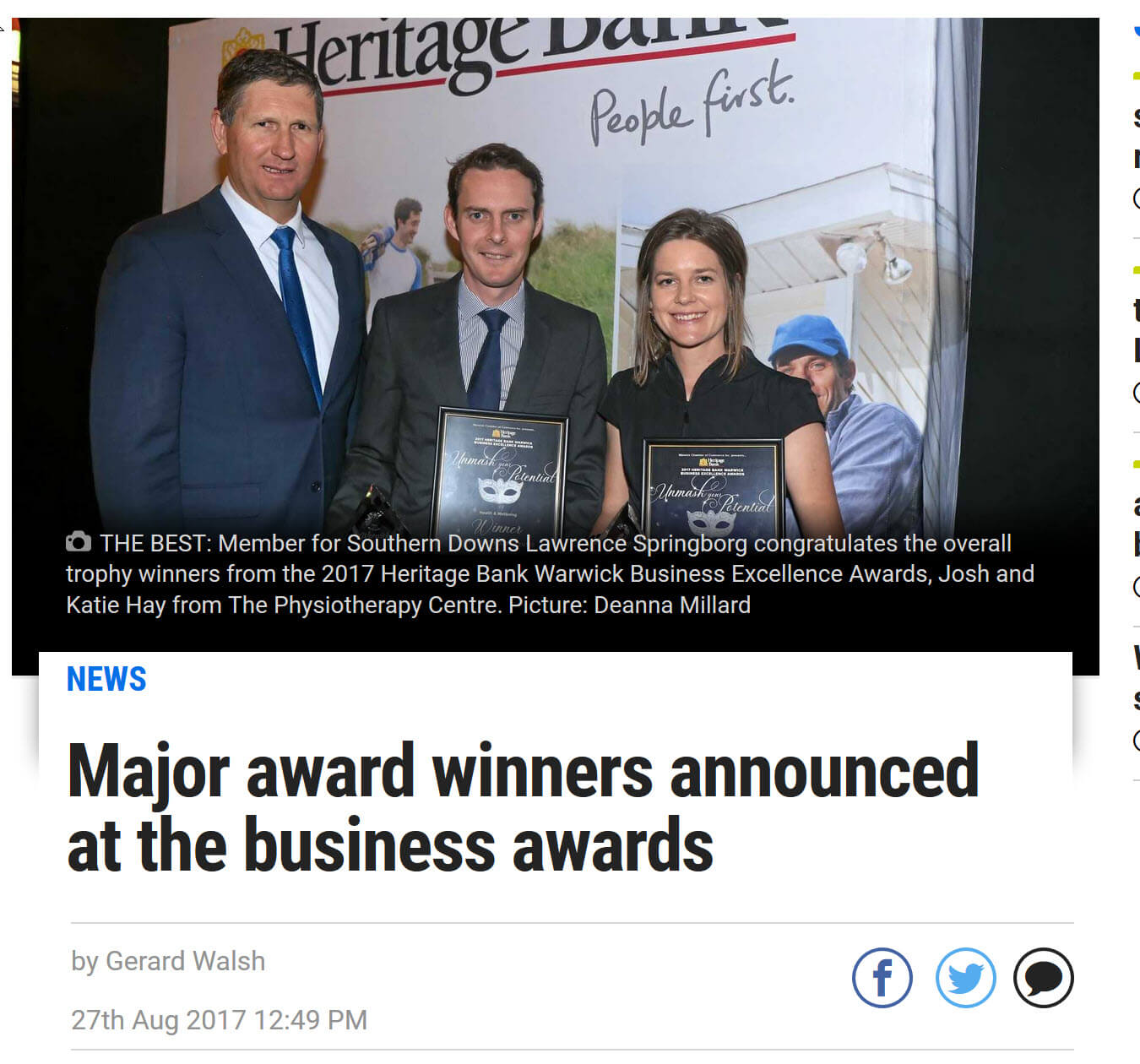 THE Physiotherapy Centre won the major award at the Warwick Chamber of Commerce 2017 Heritage Bank Business Excellence Awards on Saturday night.

Early in the night the health and well being award was won by The Physiotherapy Centre.

Awards were presented in eight categories with Southern Downs Industry Education Association (S.D.I.E.A) and Goodstart Learning each being honoured with two awards.

Goodstart Early Learning won the training, education and development section and the community services award while S.D.I.E.A was runner up in the same two categories.

One of the features of the night was the announcement that John Dee co-founder Bob Hart had won the business platinum award.

For 70 years, he has been part of a family business which started with 10 employees and now boasts 600 to be a major employer in Warwick.

The platinum award was presented by Warwick Chamber of Commerce president Julia Keogh and sponsored by the Warwick Business Excellence Awards
Committee.

The Warwick Town Hall was packed for the awards night with entertainment by the Barefoot Brass band.

Tim Somes and Jonno Colfs were the joint MCs on the night.

Other winners on the night were Catalyst Accounting (professional services award), Kelvin Falls Family Farm (agriculture), Rose City Premium Meats
(new business), Warwick Computer Service (retail, wholesale and distribution) and Warwick Motor Inn (hospitality and tourism).

Runner up awards went to Cherrabah Resort (hospitality and tourism), Southern Downs Skin & Laser Clinic (health and well being), R-On the Downs
(professional services), Hair Kreations (new business) and Choices Flooring Warwick (retail, wholesale and distribution).

Ms Keogh was glowing in her praise for the awards committee, the large list of sponsors that were named on the night, Bluebird Kitchen and Bar for the
meal and DD Event Park Hire for their work on the decorations to recognise the "Unmask Your Potential" theme.
Sourced from: https://www.centralnorthburnet...

Posted in: