Funding to Help
06-02-2018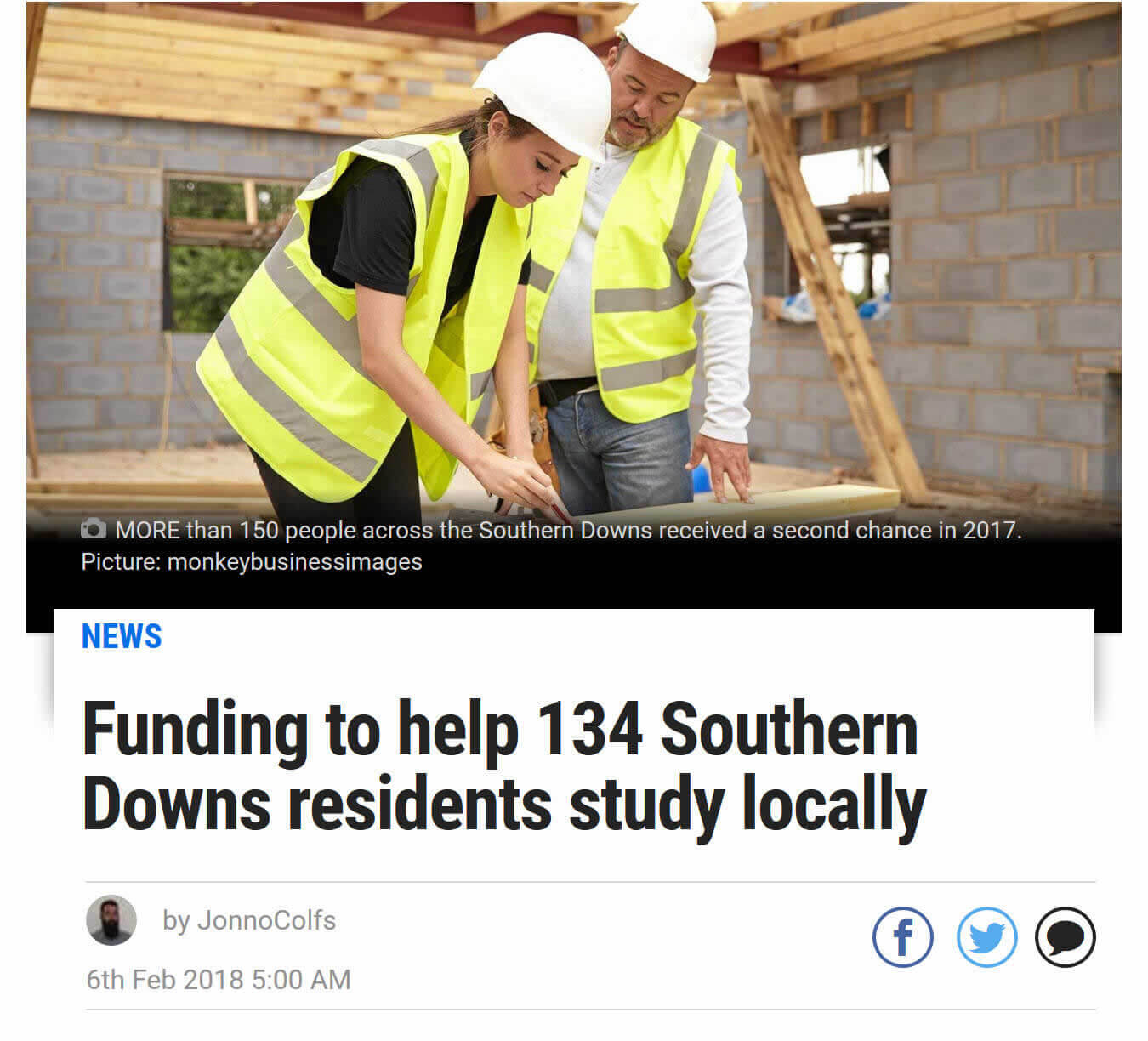 MORE than 150 people across the Southern Downs received a second chance in 2017. A second chance at a career, or a second chance at education.
This year, in the pursuit of skilling Queenslanders for work, Southern Downs Industry Education Association will take on 134 keen Southern Downs residents who want to find work or upskill themselves for a better chance at finding their dream career.

Thanks to State Government funding, these studies will be paid for if students meet eligibility requirements.

Program co-ordinator Grace Smith said the hard work was finding local businesses and organisations to come on board.

"We need these businesses to offer to take on students to complete their practical requirements and ultimately, to take them on as staff after completion," she said.

"We've worked with many fantastic Southern Downs businesses but we always need more."

SDIEA targets people wanting to re-enter the workforce or those for whom school simply is not viable.

"We take people aged from 15-65 now," Ms Smith said. "Those who want to learn a trade and many who want a change, something different.

"There's a lack of permanancy in work these days so further qualifications can change that, turning jobs into solid careers."

In 2017 every student who took an aged-care certificate course with SDIEA found work.

"There have been lots of success stories over the years," Ms Smith said.

"There are those who weren't cut out for school, who we've helped find work and stay in the job.

"And those older who we've helped further their education and find that career they've been chasing."

To make themselves eligible for funding is no easy task for SDIEA.

"It's a full on job," Ms Smith said.

"We first need to find out what services the region needs, be it aged-care, child-care, construction or hospitality workers.

"We then need to find local businesses who will agree to take these students on and guide them to completion of their studies.

"And then we need the students to see their studies through to that completion.

"The bulk of the funding only comes when we complete all of that, when we get those outcomes."

The courses on offer through SDIEA in 2018 are:

Certificate III in Child Care
Certificate II in Retail
Certificate II in Horticulture
Certificate II in IT Services
Certificate I in Business
Certificate II in Food Processing
Certificate I in Construction (traineeship 15-19 years)
Certificate III in Individual Support
Certificate III in Engineering Pathways
Certificate II in Railway Infrastructure
Certificate II in Hospitality

To find out more, call SDIEA on 46670420 or drop in and see them at SDIEA House, 1 Albert St, Warwick.
Posted in: